DarlingDollies is a stop motion channel on AGTube that was created on April 13th, 2014, by Emma. She often posts "Expectations vs Reality" AGSM videos that she collabs with Mixiepixie7 on.
DarlingDollies won Best Stopmotion in the 2015 Sophie Awards from Mixiepixie7
Social Media: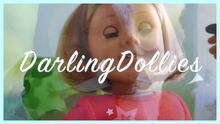 YouTube: DarlingDollies
Instagram: @darlingdollies
Google +: DarlingDollies
The Dolls:
Each 14 of her dolls have a very unique personality:
Felicity Jane (Felicity Merriman) "Motherly and Practical"
Mia Eleanora (Mia St. Claire, GOTY 2008) "Sporty"
Kit Eloise (Kit Kitredge) "Mischievous Writer"
Lanie Amelia (Lanie Holland, GOTY 2010) "Caring Nature Lover"
Kanani Maleah (Kanani Akina, GOTY 2011) "Shy Animal Lover"
Jess Akiko (#30) "Bubbly Gymnast"
Emily Adele (Emily Bennett) "Dainty Ballerina
Saige Evangeline (Saige Copeland, GOTY 2013) "Curious Artist"
Harper Olivia (#41) "Sweet and Giggly Musician"
Vivian Michelle (#58) "Outspoken Actress"
Maya Brielle (#42) "Hipster Photographer"
Nora Adaline (#13) "Intellectual Bookworm"
Maisie Jade (Custom Caroline Abbott) "Charming Fashionista"
Alice Rosalie (#48) "Adventurous Traveler"